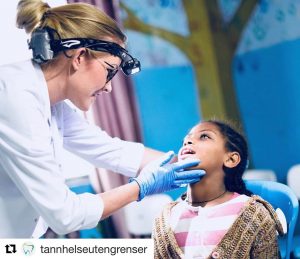 Dental Health Without Borders Norway (TUG) is an NGO working to promote oral health in developing countries. The organisation sends dental professionals to areas with limited or poor access to dental care where free emergency treatments and preventative work is carried out.
Since 2016, TUG has worked in close partnership with the Faculty of Dentistry in Addis Ababa, Ethiopia. Dental equipment and dental materials have been donated to the faculty and there is an ongoing arrangement where volunteers from TUG are given access to the treatment rooms at the faculty to provide dental treatments, hold seminars and lectures for the Ethiopian dental students and provide oral health education for the local population.
In July 2018, our dental hygienist Tone and a group of other dental professionals are travelling to Addis Ababa to volunteer as part of TUG's project. Tone has always had a keen interest in health promotion and disease prevention and is looking forward to taking on new challenges in Ethiopia and be part of a great project helping those who need it most.
We are delighted to support Tone in her involvement as a volunteer, and have donated gloves and masks to assist the project. We look forward to more photos and information when she returns.