Gum disease is a slowly developing infection that irreversibly destroys the gum and bone that hold your teeth in place.
'Otherwise known as periodontitis or periodontal disease, it is the most common cause of tooth loss in adults. Periodontitis is due to a reaction to bacteria in the form of plaque that accumulates around teeth. It often goes unnoticed except for certain signs, such as bleeding gums or bad breath. However, when a significant amount of bone has been lost, teeth will feel loose and in severe cases your teeth start to drift or fall out.'
Risk factors include
Smoking – this is responsible for aggressive gum disease and oral cancer
Poorly controlled diabetes
Stress – stress reduces your immune system's ability to combat gum infection. There are also studies linking to heart disease and stroke.
X-Rays showing the difference between healthy bone level surrounding molar teeth
fig.1 Healthy -bone level marked in red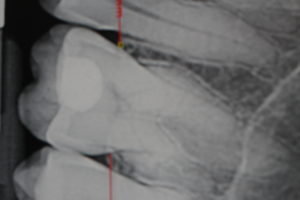 fig.2 Periodontal disease- extent of bone loss marked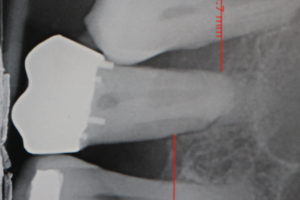 The most important factor in stopping the progression of gum disease is by eliminating these risk factors and maintaining excellent home cleaning. Good brushing technique combined with using small interdental brushes are the basis preventing infection and your gums from receding.
Dental therapy includes removal of plaque and calculus/tartar (a hard substance that can form on teeth and hinder effective cleaning) by means of scaling or "deep cleaning".
This has the added benefit of reducing bleeding gums and avoiding bad breath. Our experienced team can discuss appropriate treatment tailored to your needs and expectations.